Paralegal Referrals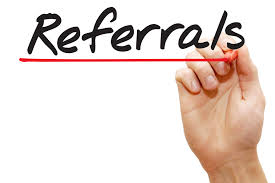 We often receive telephone calls about issues outside our areas of practice.  If we can't help you then we like to be able to refer you to someone who can.
Below is a list of paralegal professionals that are respected in their areas of practice.
Accident Benefits
HL Legal Services
5805 Whittle Rd, Unit 3,
Mississauga, ON, L4Z 2J1
Telephone 289-521-0068
harryluthra[@]hllegalservices.com
Condominium Disputes
George Brown Professional Corporation
482 Roncesvalles Avenue
Toronto, Ontario M6R 2N5
Telephone 416-519-2200
info[@]georgebrown.biz
Criminal – Summary Convictions
SS Legal Services
7045 Edward Blvd Unit 305
Mississauga, Ontario L5S 1X2
Telephone  647-793-6151
ssforlegal[@]gmail.com
Disability Benefits
Spectrum Paralegal
718 Wilson Avenue, Suite 401
Toronto, Ontario M3K 1E2
Telephone 416-636-6071
www.spectrumparalegal.com/contact
Human Rights
Hill McCown Legal Services
33 Elizabeth St South,
Brampton, Ontario L6Y 1R2
Telephone 905-290-0870
info[@]hillcowanlegal.com
Immigration
Affordable Immigration
1151 King St East
Hamilton, Ontarop, L8M 1E7
Telephone 647-896-2573
Liquor License Violations
Peterson Paralegal
134 Queen Street East, Suite 304
Brampton, Ontario L6V 1B2
Telephone   416-885-4607
ben[@]petersonlegal.ca
Landlord & Tenant Matters
Justice Matters
P.O. Box 20028 – 3029 Clayhill Road
Mississauga, Ontario L5B 4L7
Telephone   
647-977-4097
furaz[@]justicematters.ca
Mediation
Reder Services
49 Kenneth Avenue,
Oshawa, Ontario L1G 5N3
Telephone   647-977-4097
reception[@]reder.ca
Pardons / Record Suspensions
Bianchi Paralegal
17837 Yonge Street
Newmarket, Ontario L3Y 8Z3
Telephone   647-977-4097
info[@]bianchiparalegal.com
Property Management
Global Business & Legal Services
117 Peter Street, Suite 209
Toronto, Ontario M5V 0M3
Telephone   416-860-7177
global[@]gbls.com
Repair and Storage Lien Act
Lockwood Paralegal Firm
105 West Beaver Creek Rd, Unit 3
Richmond Hill, Ontario L4B 1C6
Telephone   905-597-4788
brett[@]lockwoodparalegal.ca
Small Claims Court
Justice Matters
P.O. Box 20028 – 3029 Clayhill Road
Mississauga, Ontario L5B 4L7
Telephone   
647-977-4097
furaz[@]justicematters.ca
Traffic Tickets – Toronto
Legal Action
5001 Yonge Street. Suite 1510
Toronto, ON M2N 6P6
Telephone  416-226-7250
info[@]legalaction.ca
W.S.I.B.
OJI Legal Services
797 Wilson Ave. #201
Toronto, Ontario M3K 1E4
Telephone  
647-342-7684
ottavio[@]ojiworkerscomp.com
Disclaimer
The paralegals and lawyers listed above (except for Furaz Alvi) have no connection with Justice Matters beyond fellow colleagues in the legal profession.  While we have favourable impressions of the individuals in their respective fields we do not and cannot make any representations with respect to the quality of their services.
Their listing here is for convenience purposes only and is not an endorsement.  We are not and cannot be held responsible for any issues that may arise with any of the above Mississauga paralegals or any other legal services provider that we may refer to a prospective client.  If you would like an alternative referral may we suggest you contact the Law Society's Referral Service at 416-947-3330.
Professional Representation Makes a Difference.™