Kitchener Small Claims Court
85 Frederick Street

Kitchener, Ontario N2H 0A7

Telephone 519-741-3270
NEW LOCATION:
As of March 2013, the Kitchener Small Claims Court is now housed in the new Waterloo Region Courthouse located at 85 Frederick Street at Weber Street East.
PARKING: There is no free parking in the immediate area.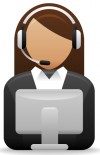 ADMINISTRATION OFFICE:
The administration office for the Small Claims Court can be found on the ground floor. Please note that while court staff can provide limited assistance with completing forms and procedures they are prohibited from giving legal advice.
HOURS OF OPERATION: The administration office opens at 8:30am and closes promptly at 5:00pm.  If you are not served by 5:00pm you will need to come back another day.
STATISTICS: Claims Filed Last Year: 1,577  Change From Previous Year: -7%
COURTROOMS – The Small Claims Court may be found in just about any of the available courtrooms in the courthouse from the ground floor to the third.  Check your hearing notice for details and confirm it by check the bulletin board found in the lobby upon your arrival.

Specific Hearing Types

MOTIONS: We have been told that the proper procedure for bringing a motion at the Kitchener Small Claims Court is to attend at the clerk's office and file the motion at which time a hearing date will be given.  After the motion has been filed it must then be served.


SETTLEMENT CONFERENCES: If a Defendant files a Defence disputing part or all of a Plaintiff's Claim then the Clerk of the Court will automatically schedule a Settlement Conference.  Settlement Conferences are often, but not always, held on the first floor.   

TRIALS: If an action is not resolved at a Settlement Conference than either of the parties may request that the matter proceed to trial by completing a  Request to Clerk Form and sending it to the Kitchener Small Claims Court along with payment of the required fee.
Looking for Paralegal Representation?
While we do not service the Kitchener-area ourselves we are pleased to recommend a local service provider – NLE Paralegal Services – which is owned and operated by Nicole Edmonds.  Ms. Edmonds has been practicing as a Small Claims Court paralegal since 2002 and can represent you from start to finish in your Kitchener Small Claims Court lawsuit.  Call her today for a free initial consultation.