Brampton Small Claims Court
7755 Hurontario St. (Administration)
Brampton, Ontario L6W 4T6
Telephone: (905) 456-4744
7765 Hurontario St. (Courtrooms)
Brampton, Ontario L6W 4T6
LOCATION: The Brampton Small Claims Court is housed in the A. Grenville & William Davis Court House facility.  It is the second busiest small claims court in Ontario.  There are two buildings on the court house grounds; 7755 Hurontario Street, where the Administration Office is located on the ground floor, and 7765Hurontario Street where most of the courtrooms are located on the second floor.
PARKING: Parking is free and the lot is large, however, it is not uncommon for it to fill up completely by 10:00am.  There is additional parking on the east side of 7765 Hurontario Street (which is where most paralegals try to park).  There is also street parking on parts of County Court Boulevard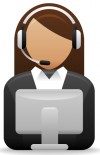 ADMINISTRATION OFFICE:
Located on the ground floor of
7755 Hurontario
(pictured above) this is also the mailing address of the Brampton Small Claims Court.  If you require counter service for help with a court form (eg. to file a plaintiff's claim or a defence) you will need to pass through courthouse security, go to the information desk for a ticket and then proceed to the administration office and wait until your ticket number is called.  Wait times can be in excess of one hour. Note: Court staff are prohibited from giving legal advice.
HOURS OF OPERATION: The administration office of the Brampton Small Claims Court opens at 8:30am and closes promptly at 5:00pm.  If you are not served by 5:00pm you will need to come back another day.
STATISTICS: Claims Filed Last Year: 8,898.  Change From Previous Year: +19%.
COURTROOMS –
The primary Small Claims Court courtrooms are located in
7765 Hurontario
(pictured at left).
Enter through the double-doors on the right.  The courtrooms used in this building are as follows:
Second Floor – H-11, H-12, H-13, H-14, H-16 and H-17
Basement – H-9 and H-15
NOTE: On some very rare occasions courtrooms in 7765 Hurontario (pictured at top of page) are made available for Small Claims Court use.  These courtrooms are numbered in the hundreds with the first number denoting which floor of the building they are on (e.g. courtroom 302 is on the third floor).  Check your hearing noticefor details
Specific Hearing Types

MOTIONS: We have been advised the proper procedure for bringing a motion in the Brampton Small Claims Court is to attend at the clerk's office and file the motion at which time a hearing date will be given.  After the motion has been filed it must then be served.  Motions are heard every day of the week and usual appear near the top a courtroom's docket after any assessment hearings.

SETTLEMENT CONFERENCES: When a Defence disputing some or all of a Plaintiff's Claim is filed the Clerk of the Court will automatically schedule a Settlement Conference.  Often the Hearing Notices will be mailed along with the Plaintiff's copy of the Defence.  In the Brampton Small Claims Court there are often three or four Settlement Conferences scheduled for 10am and 11am and usually less than that for 12pm.

TRIALS: If a defended matter is not resolved at a Settlement Conference than any of the parties to the proceeding may request a trial date by completing a Request to Clerk Form and sending it to the Brampton Small Claims Court along with payment of the required fee.

DEBTOR'S EXAMINATIONS: These hearings are now usually held at 12pm or later on any given day of the week.  Completed paperwork must be submitted to the Clerk of the Court in order to receive a hearing date.  (This may not be case with a hearing that has previously been adjourned).
Looking for Representation?

JUSTICE MATTERS: We are a paralegal firm that practices primarily in the Ontario Small Claims Court.  Paralegals, like lawyers, are licensed through the Law Society of Upper Canada and we can represent you from start to finish in your small claims court lawsuit.  Since there are no rehersals in a lawsuit you only get once chance to win.