Toronto Small Claims Court
47 Sheppard Ave. East, 3rd Floor
Toronto, Ontario M2N 5N1
Telephone 416-326-3554
LOCATION:
The Toronto Small Claims Court is housed in an office complex on the southeast corner of Yonge and Sheppard that consists of two near identical buildings; 45 and 47 Sheppard Avenue East.  It is the only small claims court in the amalgamated City of Toronto.
PARKING: There is no free parking in the immediate area.  Parking at the office complex starts at $4 per half hour up to a daily maximum of $15.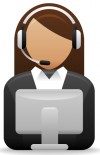 ADMINISTRATION OFFICE:
Located on the third floor of 47 Sheppard Avenue East.  For counter service (ie. to file a plaintiff's claim or a defence) you need to obtain a ticket from the information desk and wait until your number is called.  Wait times can be up to three hours.  Please note that court staff are not permitted to give legal advice.
HOURS OF OPERATION: The administration office opens at 8:30am and closes promptly at 5:00pm.  If you are not served by 5:00pm you will need to come back another day.
COURTROOMS –
The Toronto Small Claims Court has courtrooms in both 45 and 47 Sheppard Ave East.  Check your hearing notice for details.  Here are how the courtrooms are normally utlized:
47 Sheppard, 3rd Floor               Settlement Conferences and Trials
47 Sheppard, 4th Floor               Settlement Conferences
45 Sheppard, Ground Floor        Trials, Motions and Debtor's Examinations
Looking for Representation?

JUSTICE MATTERS: We are a paralegal firm that practices exclusively in the Ontario Small Claims Court.  Paralegals, like lawyers, are licensed through the Law Society of Upper Canada and we can represent you from start to finish in your Small Claims Court lawsuit.  Since there are no rehersals in a lawsuit you only get once chance to win.
Effective Representation Can Make a Difference.™